Novametrix 513 Pulse Oximeter
---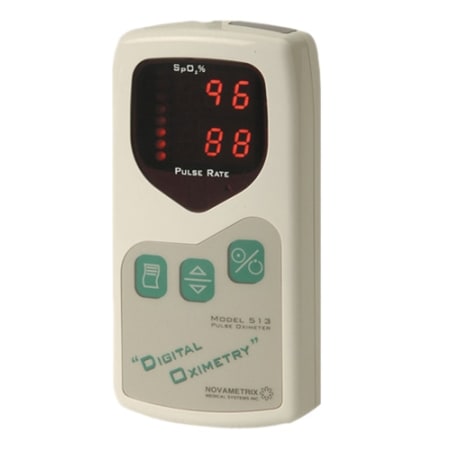 PRODUCT DESCRIPTION
The 513 handheld pulse oximeters incorporate "digital" signal processing. This advanced technology is able to process pulsatile signals at much higher resolutions and speeds of 100 times per second, which results in improved pulse oximeter performance during motion or low perfusion. The Model 513 is lightweight, easy-to-use, and provides reliable continuous measurement and display of the oxygen saturation of arterial blood (SpO2) and pulse rate. Utilizing Novametrix' patented "digital" technology, the Model 513 provides the same improved performance in conditions of motion artifact or low perfusion as found in the full featured pulse oximeters. The Model 513 features an easy-to-read LED display with a pulse activity bar to verify signal quality and aid in sensor placement. It operates from 2 AA batteries and weighs just 5.7 ounces.
---
* * * We do not provide equipment for home use * * *
Need help requesting a quote or have additional questions ? Let us know! Call us at 1.800.248.5882 or you can SEND US AN EMAIL
Be sure to SUBSCRIBE to our monthly equipment email to always stay up to date with special offers and new equipment arrivals.