Tri-Anim 1900 High-Low Flow Blender
---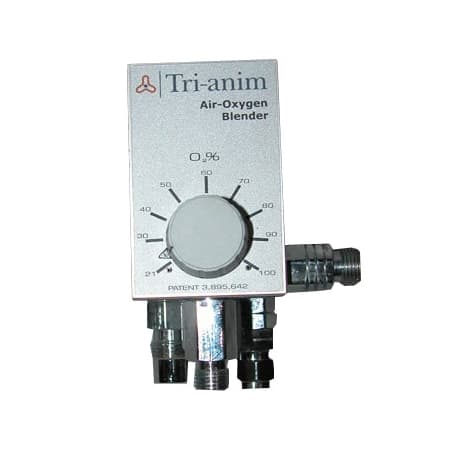 PRODUCT DESCRIPTION
Med One is dedicated to providing you with the absolute best in medical equipment, such as the 1900 from Tri-Anim, an oxygen/air blender that delivers accurate mixtures from two outlets. The large selection knob makes oxygen percentages easy to adjust, as well as maintaining percentage accuracy. Flow capacity ranges from low to high at 2-120 liters per minute. This piece of respiratory equipment has bottom outlets that are suitable for ventilators or h-flo CPAP (continuous positive Airway pressure) and a side outlet for flowmeter.

With Med One Group, we come up with innovative ways to make medical equipment available through flexible finance, rental, and sales solutions. This allows you to have access to the best medical equipment and supplies available.
---
* * * We do not provide equipment for home use * * *
Need help requesting a quote or have additional questions ? Let us know! Call us at 1.800.248.5882 or you can SEND US AN EMAIL
Be sure to SUBSCRIBE to our monthly equipment email to always stay up to date with special offers and new equipment arrivals.