Turner Smart-C Arm X-Ray Imaging System
---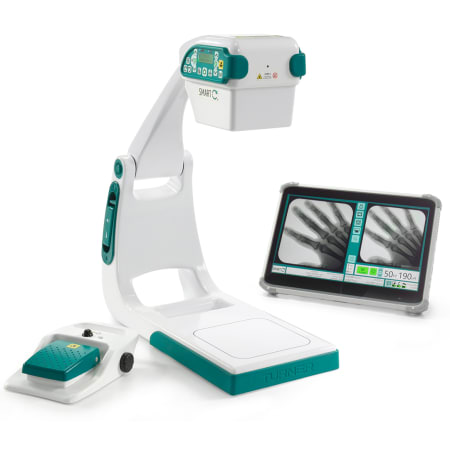 PRODUCT DESCRIPTION
The Turner Imaging System Smart-C Arm gives you the flexibility to perform in surgery, clinics, or on the field. The Smart-C is the world's first battery-powered, completely wireless, hyper-portable, mini C-arm providing unparalleled digital fluoroscopic imaging capabilities.

This mini C-arm is designed for use in clinics, operating rooms, in the field at the point of injury/care, or wherever extremity imaging is desired. As an authorized distributor for the Turner Imaging Systems Smart-C C-Arm machine, Med One can provide creative rental, leasing, and sales solutions tailored to your needs.


---
* * * We do not provide equipment for home use * * *
Need help requesting a quote or have additional questions ? Let us know! Call us at 1.800.248.5882 or you can SEND US AN EMAIL
Be sure to SUBSCRIBE to our monthly equipment email to always stay up to date with special offers and new equipment arrivals.