ICU Medical Plum 360 Infusion Pump
---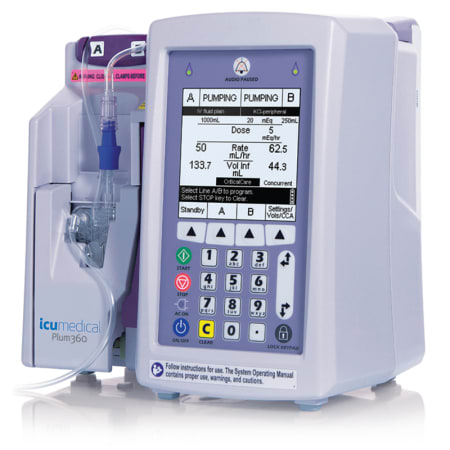 PRODUCT DESCRIPTION
The ICU Medical Plum 360 is a dependable IV pump that has proven to reduce medication errors and increase patient safety. The infusion device boasts industry-leading cybersecurity and complete IV-HER interoperability.

The Plum 360 includes the uniquely designed PlumSet cassette allowing for automated back-priming. This allows air to be easily removed from the line without disconnecting from the patient to maintain a closed system. The device also includes a secondary line that connects directly to the cassette, eliminating the need to raise or lower infusion containers. If your facility needs secondary IV delivery to your patients, then the Plum 360 is an excellent choice for an infusion pump.

Additional Features of the Plum 360:
Large Drug Library
Clinical Use Selection
Extensive Dosing Units
Closed System Air Management
Reduced Risk of Contamination
Minimizes Wasted Medication
Electronic Health Record (EHR) Integration
Med One rents to hospitals and healthcare facilities across the country. Request a Quote below for cleaned, patient ready ICU Medical Plum 360 infusion pumps.
We have quality IV Poles available for all infusion pumps.
---
* * * We do not provide equipment for home use * * *
Need help requesting a quote or have additional questions ? Let us know! Call us at 1.800.248.5882 or you can SEND US AN EMAIL
Be sure to SUBSCRIBE to our monthly equipment email to always stay up to date with special offers and new equipment arrivals.