Alaris 8120 PCA Pump Module
---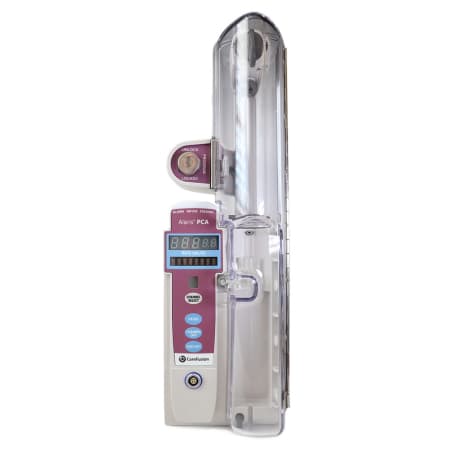 PRODUCT DESCRIPTION
The Alaris 8120 is a PCA pump module that is used for the delivery of pain management medications via patient-controlled dosing. It uses syringe-based technology with secure drug access that attaches easily to the Alaris PC. The Alaris 8120 is designed to work with the Alaris PC Unit as well as with other Alaris System modules.
The Alaris 8120 PCA Module uses non-dedicated standard or pre-filled, single-use, disposable syringes (with luer-lock connectors) and administration sets with anti-siphon valves, designed for use on syringe-type PCA pump devices.

You can watch the video below for assistance in setting up an infusion, viewing patient history, connecting modules to the PCU, bolus request cord profiles, programming a bolus dose, selecting the right patient profile and more.

All the necessary tubing for the Alaris PCA Pump Module can also be purchased from Med One here.
We have quality IV Poles available for all infusion pumps.
---
* * * We do not provide equipment for home use * * *
Need help requesting a quote or have additional questions ? Let us know! Call us at 1.800.248.5882 or you can SEND US AN EMAIL
Be sure to SUBSCRIBE to our monthly equipment email to always stay up to date with special offers and new equipment arrivals.