Hospira Plum A+ Infusion Pump
---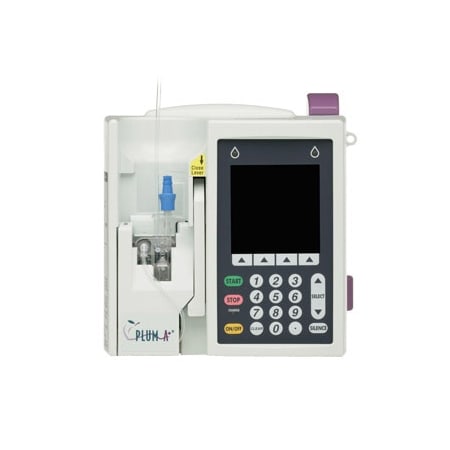 PRODUCT DESCRIPTION
The Hospira Plum A+ is a cassette-based infusion system that can perform a variety of infusion therapy modes. This Hospira pump can be used in a variety of care scenarios.

The Plum A+ is one of the Hospira IV pumps that has proven to be reliable and economically valuable to many healthcare facilities. Our customers have used this pump for hospital and emergency care use but can also be used in Pediatrics, Oncology, Labor & Delivery, and more throughout the hospital. With multiple therapy modes, the Hospira Plum A+ is used for a variety of patients.

Additional Features of the Hospira Plum A+:
Ability to Create a Custom Drug Library
Can Mount to an IV Pole
Weight 9.5lbs
6 Hour Battery Life
Air-In-Line Detection and Elimination
Hard and Soft Dosing Limits
Programmable Delayed Starts
Flow Rate Calculation
Med One rents and sells to hospitals, healthcare facilities, and educational institutions across the country. All Hospira IV pumps have been fully refurbished and are patient-ready. Request a quote below.
We have quality IV Poles available for all infusion pumps.
---
* * * We do not provide equipment for home use * * *
Need help requesting a quote or have additional questions ? Let us know! Call us at 1.800.248.5882 or you can SEND US AN EMAIL
Be sure to SUBSCRIBE to our monthly equipment email to always stay up to date with special offers and new equipment arrivals.